Bahrain, the pearls island


Contents of this page:
---
Bahrain's Map: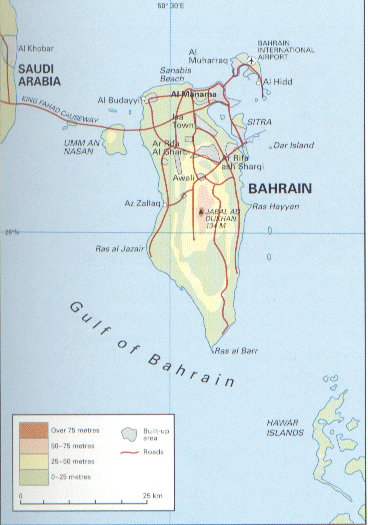 ---

Information:
Bahrain:
Bahrain is a small island nation located in the Persian Gulf, close to Saudi Arabia and Qatar. The country offers a fascinating blend of east and west, a mix of tranquil traditions with modern development and cosmopolitan living. Bahrain is a desert island but at the same time it's vibrant and modern.

The name "Bahrain":
In Arabic, it means 'the two seas' . It is believed to be derived from the fact that sweet water spring from the aslty sea floor. Patches of lighter water color inside the sea indicates where sweet water spring. The pearl divers have benefited from these springs by drinking the sweet water during the long periods they spent away from shores.
Geography:
Bahrain is an archipelago of more than 33 islands, situated on the western shores of the Arabian Gulf. It covers a total land area of 692 sq kms (267sq miles) which makes it a little smaller than Singapore.
Bahrain lies 22 kms (14 miles) off the eastern coast of Saudi Arabia, to which it is connected by a causeway, and 28 kms (17 miles) from the coast of Qatar.
Bahrain island (main island) is the largest of the islands; at about 48 kms long and 16 kms wide it covers 586 sq kms.
By contrast, Muharraq, the second largest island where the airport is located, is 21 kms square.
Much of Bahrain is low-lying; the highest point, Jebel Al Dukhan (means: Mountain of Smoke) is just 137 meters above sea level!
Bahrain has lots of artificial land that was constructed using sand, now this new land has lots big malls and beautiful hotels.
Government:
(Recently Bahrain has become a kingdom, with a parlement and elections). The State of Bahrain is governed by the Al Khalifa family. The present Head of State is HH the Amir Shaikh Hamad bin Isa bin Sulman Al Khalifa (picture) (opens a new window) took office after his father the late Shaikh Isa bin Salman Al Khalifa (picture) (opens a new window) (1933 - March 1999). The Al Khalifas have ruled Bahrain since 1783.

Capital:
Manama, the capital, is where much of the business is concentrated. It is easily accessible from every part of the country. Highways that extend by the sea shore connect most of the major towns.
People:
The country offers fascinating blend of east and west, and a mix of old traditions with modern development and cosmopolitan living.
Bahrain's total population is just over half a million (518,243, according to the 1991 census), with a significant percentage of expatriates of various nationalities.This makes Bahrain a highly cosmopolitan society.
Bahrainis themselves are a very friendly people, and visitors can expect to be graciously treated.
Language:
Arabic is the national language.
English however is widely understood and spoken, and commonly used in business.
Other mostly asian languages are used such as hindi and urdu.
Religion:
The state religion in Bahrain is Islam and is followed by the majority of the population. Other religions also have their places of worship and are permitted to practice freely. Bahrain has a wide range of religions being practiced. Churches of various denominations such as Evangelical and Catholic hold regular services too.
Currency:
Bahrain's currency is the Dinar, with each dinar divided into 1,000 Fils.
$1 = BD0.377 (377 fils).

Most shops will accept Saudi riyals at the rate of 1:10, the dinar being the stronger currency, while some also accept US dollars.
There are no restrictions on currency movement in or out of the country, and you will find most currencies can be easily changed.
Economy:
The country has a modern industrial and business infrastructure, including advanced telecommunications facilities that is actively promoting foreign investment.
Oil production and refining are an important economic sectors in Bahrain.
Climate:
During the first quarter of the year, temperatures average 17-20°C and can go up to 31 °C by the end of the quarter.
Evenings in January and February may be chilly and unexpected showers can be experienced throughout the quarter.
At the height of summer, July to September, Bahrain gets high humidity. The air temperatures reaches over 40°C.

History:
Archaeological evidence indicates that Bahrain was first inhabited some 50,000 years ago and possibly up to 100,000 years ago. Some of the flint tools found suggest that agriculture may have been practiced on the island as long ago as 8,000 BC.

The Islands that make up Bahrain: have been giving many different names and nicknames over the ages -some of them are still used- here are some ancient and current names:
Delmun
Awal
tylos
land of imortality.
land of the million palm tree.
land of pearls.
The Gulf Pearl
The Gulf Bride.
Bahrain (in Arabic it means: the 2 seas) <the State of Bahrain>
---
Pictures


Click here 2 see Pictures from Bahrain
---
Gr8 & Useful Links: